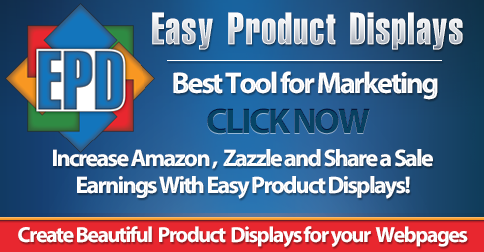 Almost a year ago, I wrote a short review on Easy Product Displays (EPD), when I first started using it. Since that time, I have been using EPD religiously to update and create new posts for all of my sites, and the service is fantastic. The options for image sizes and display layouts are awesome and I have created beautiful, user-friendly and successful product pages for many of my sites.
Super Easy to Use
EPD is easy to use, and makes your pages easy for your reader/customer to understand. Your clickable images and buttons are obvious, and the customer has no problem going from your promo page to the product pages.
Search for Products
EPD offers search capabilities for Amazon, Zazzle and Shareasale. Until recently, Amazon clearly had the best search both on and off EPD's tool, which made it a breeze to use. Below, you can see a display that I created with Amazon products. Click the image to see the entire page.
Shareasale Displays
Shareasale was added last year, and it is definitely a step up from what Shareasale itself has, although not as good as Amazon. That is more to do with the individual merchants themselves rather than EPD's development team. Even so, EPD offers an easy way to create lovely displays from Shareasale merchants like the one shown below.
Updated Zazzle Search is Awesome
The newest piece of the puzzle, due to be released in the next few days, is an updated and really cool Zazzle search capability. I am one of the lucky beta-testers for EPD, so I get to try out new features before they are released. EPD had a limited Zazzle search before this, which was okay, but not great. This new search capability is the best I have seen, even better than Zazzle's. The image below is from the beta test site, so it might be slightly different when it comes out.
You have the ability to search with store names, department such as Home & Pets, categories within stores and collections. It sets up a display for you so quickly, it is truly amazing. Of course, you can change it or personalize your page any way you want, including display size and type, wording and inclusion or elimination of individual products. All I can say is that the timing of this new piece of the EPD puzzle is perfect for me, since I was planning to invigorate my own Zazzle stores this year. And knowing the EPD owners like I do, I am sure that they will continue to improve this feature along with adding others.
You are not limited to promoting your own stores, of course. You can promote anyone's products you like within a collection, or just mixed in a group of items.
Cheap to Use
EPD is so cheap to use, and so easy, that anyone who is promoting Zazzle should use it! You will be amazed at how fast it will create promos for you for your blog, website or landing page. It truly is a genius product.
FREE 3-DAY TRIAL
Honestly, I can go on forever about this product, but to see it work, you need to try it yourself. There is a FREE 3-DAY TRIAL which you can use by clicking the button below.


15% OFF COUPON
If you use our PINPARTY discount code, you will get 15% off any subscription when you sign up. And you will, because it is that great!
Give it a try! You will seriously fall in love with it just in time for Valentine's Day and find it so easy to promote your Zazzle store!